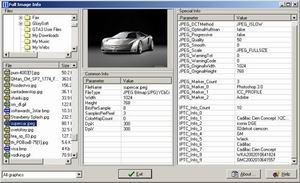 Full Image Info is an easy to use program targeted to view and retrieve information about images and photos taken with digital cameras.
Many common image formats are supported including JPEG, TIFF, BMP, GIF, JPEG2000, PCX, CUR, ICO, PNG, TGA, PXM, and a variety of information can be retrieved about each, including resolution, width, height and color mode.
Full Image Info can also provide detailed EXIF information about photos (model, exposure program, shutter speed value, aperture value, etc.), IPTC information and more.