The Able Fax Tif View can display a variety of image files, both single page and multipage images.
When viewing images, there are a variety of options available to control how the image is displayed.


Fit Page Width
Scales the image to fit to the width of the viewing screen.
Fit Page Height
Scales the image to fit to the height of the viewing screen.
Best Fit
Scales the image that the entire image fits into the viewing window.
Actual Size
Displays the image without any scaling factors, using the actual size of the image.
View modes:
a - Page and Thumbnails
b - Page only
c - Thumbnails only
Files list
Show the files list panel
Magnifier
Magnify layers (rectangle or like a lens/glass).

Panning
This allows the user to hold the image with the mouse and move the image around by clicking on the image and dragging the mouse in the direction they wish to move.
Pages Stacking
This function makes all the pages appear on top of one another (it looks like they are printed on clear film). In this way one can detect pages which have been scanned VERY skew, pages that are mispositioned and also we can see the general boundaries of the pages. It gives a sort of gods eye view of the document as a whole. This then allows to delete margins, page no's, headers, etc off the entire document with one stroke without fear of accidentally deleting stuff off pages.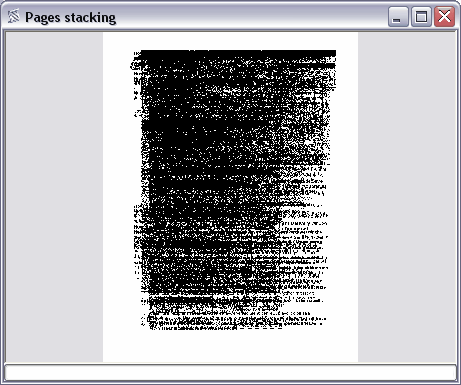 Display Grid
When Display Grid is marked and the Zoom is equal to or greater than 400, a grid is drawn. Each grid box is equivalent to a bitmap pixel.
White-on-Black
It will be helpful to someone who has vision impairment.