| | | |
| --- | --- | --- |
| | Contents | |

| | |
| --- | --- |
| | Introduction |

| | |
| --- | --- |
| | Browse modes |

| | |
| --- | --- |
| | Viewing Images |

| | |
| --- | --- |
| | File Management |

| | |
| --- | --- |
| | Editing Images |

| | |
| --- | --- |
| | Toolbars, Menu bar, Keys |

| | |
| --- | --- |
| | License and Registration |

| | |
| --- | --- |
| | About Able Photo Slide Show |

| | | | | |
| --- | --- | --- | --- | --- |
| Able Photo Slide Show - Online Help | | | | |
Slide Show Tab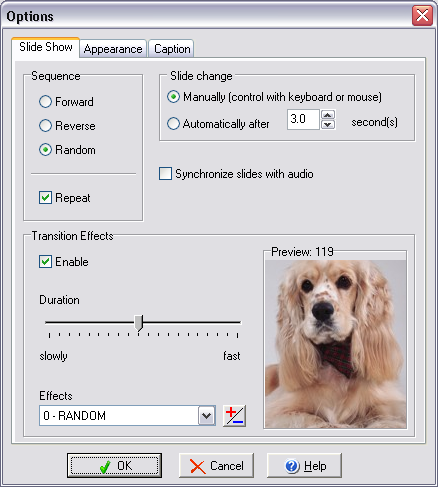 The following options are available:
Sequence

Order the presentation of images in a slide show from first to last.


Repeat

To repeat the slide show when reaching the last image of a sequence


Slide change

You can set whether every next picture will be shown automatically after the specified time or the program will wait for your mouse click.


Show delay
(show the next image after ...)
Adjust the delay time for the display of images by moving the slider or typing an amount.


Program allows you to synchronize timing of a slide group with a slide playlist. Select Synchronize slides with audio. The program will calculate slide intervals automatically.


Duration

Adjust the duration of transition by moving the slider.


Effect

Specify which transition effect to use when displaying the next image in the slide show.
Use

button for
edit of effects list
.


---
Appearance Tab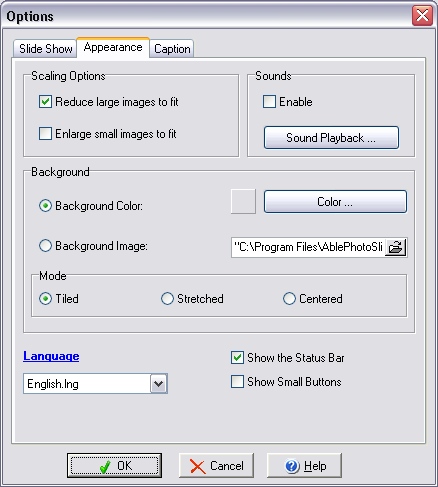 The following options are available:
Scaling options

Reduces and enlarges images to fit the size of the viewing window.


Sound Playback ...

Opens the
Sounds Playback
dialog box where you can select audio files to background playback.


Background
You can specify background color, background image and background image mode of slide show window.

Background Color / Background Image ...

You can change the background color or background image (from file).


Mode

| | |
| --- | --- |
| · | Tiled - Fills the screen by the background image as tiled. |
| | |
| --- | --- |
| · | Stretched - Fills the screen by stretching the background image. |
| | |
| --- | --- |
| · | Centered - Draws the background image on the center of the screen. |
---
Caption Tab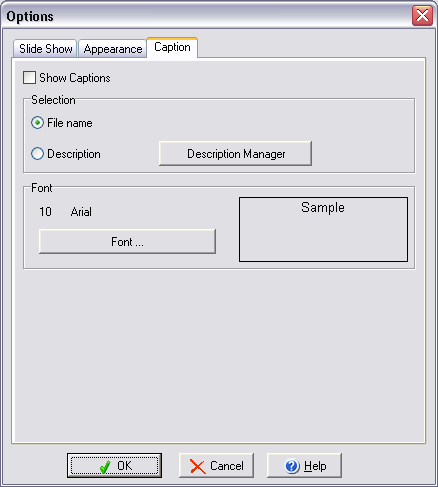 The following options are available:

Select the Show Caption check box to add a caption to each image.

When viewing an image, you can add a text above it. The text can include information you type in Description Manager or filename associated with the image file.

Description Manager ...
In the Description manager dialog box, type the text you want to appear on the image.

Font
Click the Font button. Select a Font, Font style, Size, and Color option.

Watermark

Date-Time format

d Displays the day as a number without a leading zero (1-31).
dd Displays the day as a number with a leading zero (01-31).
ddd Displays the day as an abbreviation (Sun-Sat).
dddd Displays the day as a full name (Sunday-Saturday).
e Displays the year in the current period/era as a number without a leading zero (Japanese, Korean and Taiwanese locales only).
ee Displays the year in the current period/era as a number with a leading zero (Japanese, Korean and Taiwanese locales only).
g Displays the period/era as an abbreviation (Japanese and Taiwanese locales only).
gg Displays the period/era as a full name. (Japanese and Taiwanese locales only).
m Displays the month as a number without a leading zero (1-12).
If the m specifier immediately follows an h or hh specifier, the minute rather than the month is displayed.
mm Displays the month as a number with a leading zero (01-12).
If the mm specifier immediately follows an h or hh specifier, the minute rather than the month is displayed.
mmm Displays the month as an abbreviation (Jan-Dec).
mmmm Displays the month as a full name (January-December).
yy Displays the year as a two-digit number (00-99).
yyyy Displays the year as a four-digit number (0000-9999).
h Displays the hour without a leading zero (0-23).
hh Displays the hour with a leading zero (00-23).
n Displays the minute without a leading zero (0-59).
nn Displays the minute with a leading zero (00-59).
s Displays the second without a leading zero (0-59).
ss Displays the second with a leading zero (00-59).
z Displays the millisecond without a leading zero (0-999).
zzz Displays the millisecond with a leading zero (000-999).
am/pm Uses the 12-hour clock for the preceding h or hh specifier, and displays 'am' for any hour before noon, and 'pm' for any hour after noon.
The am/pm specifier can use lower, upper, or mixed case, and the result is displayed accordingly.
a/p Uses the 12-hour clock for the preceding h or hh specifier, and displays 'a' for any hour before noon, and 'p' for any hour after noon.
The a/p specifier can use lower, upper, or mixed case, and the result is displayed accordingly.
'xx'/"xx" Characters enclosed in single or double quotes are displayed as-is, and do not affect formatting.

Copyright © 1997- 2019